Human Rights & Environment Program
---
For more information about CIEL's Human Rights & Environment Program, contact Marcos Orellana.
---
Amicus Curiae Brief Focuses on Transboundary Environmental and Human Rights Impacts of Aerial Spraying of Herbicides in Ecuador
For Immediate Release
October 11, 2011
Contact: Dr. Marcos Orellana, Center for International Environmental Law, (202) 742-5847, or morellana@ciel.org.

Update: On the 21st of November, 2011, US District Judge Richard Roberts ordered that the motion to file an amicus brief be granted.

On October 7, 2011, fourteen international environmental law professors and practitioners filed an amicus curiae brief to the District Court for the District of Columbia in the case of Venancio Aguasante Arias, et al & Nestor Emogenes Arroyo Quinteros, et al v. DynCorp, et al. Amici included the President of the Center for International Environmental Law (CIEL) Carroll Muffett and Director of CIEL's Human Rights and Environment Program Dr. Marcos Orellana.

The case concerns significant transboundary environmental impacts caused by DynCorp's aerial spraying of an herbicide in the border areas between Colombia and Ecuador. The spraying was conducted as part of Colombia's eradication operations of illegal drug cultivation. Several Ecuadorian citizens living in the cross-border region are seeking damages based on evidence of serious harm to their physical health and natural resources. The District Court will decide whether to grant defendant's motion for summary judgment on plaintiff's Alien Tort Statute claims.

The amicus brief explains that the state obligation to prevent transboundary environmental harm, also known as the sic utere principle, has been widely recognized as a principle of customary international law. The obligation to prevent transboundary environmental harm has been accepted by the vast majority of countries in specific environmental treaties, and further evidenced in International Court of Justice decisions, Arbitral Decisions, Article 21 of the Stockholm Declaration and Article 2 of the Rio Declaration Moreover, the amicus brief emphasizes that at a minimum, the duty to prevent significant transboundary environmental harm requires due diligence on the part of the state. This entails examining the potential risk from state's proposed activity, i.e., aerial spraying of an herbicide, with the regulations and controls a State has in place to control the risk of transboundary environmental harm.

In addition, the amicus brief analyzes the relationship between the sic utere principle and the 1988 Convention Against Illicit Traffic in Narcotic Drugs and Psychotropic Substances (1988 Convention). The amicus brief argues against DynCorp's assertion that the 1988 Convention displaces the sic utere principle on grounds of lex specialis. This is because the 1988 Convention does not address questions of state responsibility or liability with respect to transboundary environmental harm.
About CIEL
Founded in 1989, the Center for International Environmental Law (CIEL), www.ciel.org, is committed to strengthening and using international law and institutions to protect the environment, promote human health, and ensure a just and sustainable society. With offices in Washington, DC and Geneva, CIEL's staff of international attorneys work in the areas of human rights and the environment, climate change, law and communities, chemicals, trade and the environment, international environmental governance, biodiversity and wildlife and international financial institutions by providing legal counsel and advocacy, policy research and capacity building. CIEL also directs a joint research and teaching program with The American University's Washington College of Law, focused on international and comparative environmental law, as well as offering internships and fellowships to educate the next generation of international environmental advocates.


For more information, please contact Marcos Orellana.

Learn More!
To receive CIEL's monthy newletter, click here.
---
Latest Human Rights & Environment Program News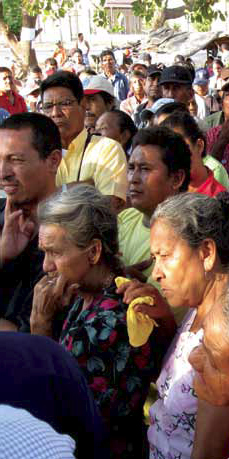 CIEL (UNITED STATES) | 1350 CONNECTICUT AVENUE, NW SUITE #1100 | WASHINGTON, DC 20036| PHONE: (202) 785-8700 FAX: (202) 785-8701 | E-MAIL: INFO@CIEL.ORG
CIEL (SWITZERLAND) | 15 RUE DES SAVOISES, 1205 GENEVA, SWITZERLAND | PHONE:41-22-789-0500 FAX: 41-22-789-0739 | E-MAIL: GENEVA@CIEL.ORG