Human Rights & Environment Program
---
For more information about CIEL's Human Rights & Environment Program, contact Marcos Orellana.
---
Human Rights & Environment Program Research & Publications


Sumission to the Ad Hoc Working Group on the Durban Platform for Enhanced Action Regarding Information, Views and Proposals Related to the Durban Platform Work Plan under Workstream I (2013)

Promoting Human Rights in the Future Climate Regime (Duyck & Johl) (January 2013)

A Human Rights-Based Approach to Climate Change [The Human Rights-Based ApproachA Field of Action for Human Rights Education] (Orellana) (2012)

Presentación de amicus curiae en la acción de amparo interpuesta por Martin Charaja Valdez y otros en el Expediente (ERI, CIEL) (August 2012)

"Normal Operations of a Ship" under MARPOL (Orellana) (June 2012)

Human Rights & Environment in the Rio+20 UN Conference on Sustainable Development (Orellana) (February 2012)

A Human Rights-based Approach to Climate Finance (Johl & Lador) (February 2012)

Climate Change and Human Rights: A Primer
(Orellana & Johl) (May 2011)
Summary of how climate change impacts and response measures are affecting the full and effective enjoyment of human rights; includes a summary of relevant activities and decisions taken at the Human Rights Council, UNFCCC and other policy processes.

Analysis of Human Rights Language in the Cancun Agreements (UNFCCC 16th Session of the Conference of the Parties) (March 2011)

Defensoras y Defensores Ambientales en Peligro: La Situación en México y Centro América en el Ámbito de la Industria Minera (October 2010) [Informe preparado por el Centro para el Derecho Internacional Ambiental para la audiencia general del 25 de octubre de 2010 durante el 140º período ordinario de sesiones de la Comisión Interamericana de Derechos Humanos.]

Climate Change and the Millenium Goals: The Right To Development, International Cooperation and the Clean Development Mechanism (June 2010) (Orellana) [SUR, International Journal on Human Rights]

EIAs in Practice: Potenital Lessons for Human Rights Impact (June 2010) (Orellana)

Climate Change and the Right to Development: International Cooperation, Financial Arrangements, and the Clean Development Mechanism (February 2010)

Practical Approaches to Integrating Human Rights and Climate Change Law and Policy (February 2009) (Orellana)

Derechos Humanos y Ambiente: Desafios para el Sistema Interamericano de Derechos Humanos (November 2007) (Orellana) [Jornadas de Derecho Internacional of the Organization of American States / Organización de los Estados Americanos]

Using International Law and Institutions to Protect Children's Environmental Health (June 2005) (CIEL/Physicians for Social Responsibility) (Perrault & Levitt)

Building Bridges: North America/South Asia Conversation on Environmental Justice (2004) (Proceedings of the environmental justice workshop held in Sariska, India on December 2002)

Indegenous Peoples, Energy, and International Justice: The Pangue/Ralco Hydrologic Project in Chile's Alto BioBio (July 2004) (Orellana)

Indigenous Peoples, Mining, and International Law (2002) (Orellana) (English & Spanish versions of this paper are posted at the International Institute for Environment and Development]

Transparency in 21st Century Fisheries Management: Options for Public Participation to Enhance Conservation and Management of International Fish Stocks (2001) (Wiser) [This version is a pre-published draft; a final version was published in the Journal of International Wildlife Law and Policy, Volume 4, pages 95-129, available from Kluwer Academic Publishers] [HR01-1]

Resettlement: The World Bank's Assault on the Poor (May 2000) (Clark; Edited by Carothers).

Implementing the Principles of the Public Participation Convention in International Organizations: Background Document for NGO Session, 3-6pm; June 24, 1998 (FoE Europe, Belgium/CIEL, 1998) (Saladin & Van Dyke) [HR98-1]

The Role of Environmental Organizations in International Environmental Law (1998) (Hunter) [HR98-2]

Human Rights, Environment, and Economic Development: Existing and Emerging Standards in International Law and Global Society (Spring 1998) (Maggio & Lynch)

Public Participation in the Process of Environmental Decision-Making: Designing, Implementing, and Enforcing Environmental Standards, Proceedings of Russian Conference (Russian version: May, 1997; English version: November, 1997) (Saladin & Pikul, eds.) [HR97-1]

A Proposal to Introduce the Right to a Healthy Environment into the European Convention Regime, 13 Virginia Environmental Law Journal 101 (1994) (Van Dyke) [HR94-1]

Human Rights and the Environment: Selected Bibliography (1992) (Downes) [HR92-1]


Learn More!
To receive CIEL's monthy newletter, click here.
---
How To Order A Research Paper Or Publication

To order a research paper or publication, e-mail info@ciel.org
Or mail or fax your request to CIEL at:
1350 Connecticut Ave. NW
Suite 1100
Washington DC 20036
Fax CIEL at (202) 785-8701
---

Download free electronic copies of the file (where applicable) in PDF format viewable with Adobe Reader.

---
More CIEL Research & Publications Categories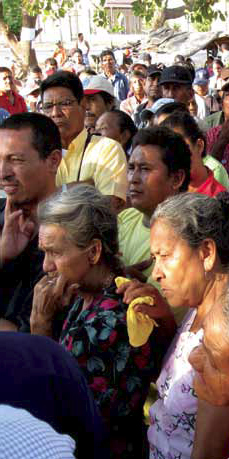 CIEL (UNITED STATES) | 1350 CONNECTICUT AVENUE, NW SUITE #1100 | WASHINGTON, DC 20036| PHONE: (202) 785-8700 FAX: (202) 785-8701 | E-MAIL: INFO@CIEL.ORG
CIEL (SWITZERLAND) | 15 RUE DES SAVOISES, 1205 GENEVA, SWITZERLAND | PHONE:41-22-789-0500 FAX: 41-22-789-0739 | E-MAIL: GENEVA@CIEL.ORG